shooting jacket
shooting jacket
Chaqueta de tirador
. Parte de la indumentaria especial de los tiradores de alta competición. Su diseño está orientado a reducir el movimiento del cuerpo humano durante la ejecución del disparo. Incorpora superficies acolchadas y correas para hacer más confortable la toma de posición. Usualmente está acompañado de un pantalón especial.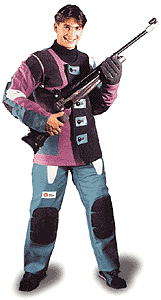 ---
|
shooting jacket in English
|
shooting jacket in Portuguese
You think you have ethics... Take the survey
NOW!