leopard lizard
Leopard Lizard
The
long-nosed leopard lizard
,
Gambelia wislizenii
, is a relatively large
lizard
ranging from 3¼ to 5¾ inches (8.2-14.6 cm) snout-vent length (SVL). It has a large head, long nose, and a long round tail that can be longer than its body. It is closely related to the "
blunt-nosed leopard lizard
" which closely resembles the long-nosed leopard lizard in body proportions, but has a conspicuously blunt snout. They were once considered part of the
genus
Crotaphytus
. The epithet
wislizenii
is in honor of the German-American surgeon and naturalist Frederick Adolph Wislizenius, who caught the first specimen near
Santa Fe, New Mexico
.
Gambelia
Gambelia
is the
genus
name for the
leopard lizards
in the family
Crotaphytidae
. One difference between the
genera
Gambelia
and
Crotaphytus
is that
species
of the former have fracture planes in their tails, allowing the tails to break off when grasped by predators.

leopard lizard
---
leopard lizard
n : any of several large lizards with many dark spots; of western united states and northern mexico

---

leopard lizard
---
Noun
1. any of several large lizards with many dark spots; of western United States and northern Mexico
(hypernym) iguanid, iguanid lizard
(member-holonym) Gambelia, genus Gambelia






Leopard Lizard
Gambelia wislizeni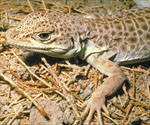 General Info
:
Length up to 15".
Due to their beautiful skin coloration and pattern, leopard lizards are becoming very popular pets. Some have been known to accept small amounts of vegetation as part of their regular diet.
Temperature/Humidity
:
Ideal daytime temperature for leopard lizards should range between 85 and 95 degrees. Additionally, a basking lamp should be used on one end of the enclosure to maintain a local temperature of 115-125 degrees. Nighttime temperature should remain between 65 and 75 degrees. The humidity for these lizards should be kept at or near 35 percent.
Lighting
:
All diurnal lizards (mainly active during the day) require ultraviolet lighting to maintain good health. Ultraviolet lighting is recommended for 12 hours per day. The use of a timer will assist in maintaining an accurate schedule of light periods.
Feeding/Watering
:
Leopard lizards do well on a diet consisting of a variety of vitamin/calcium dusted insects such as crickets, mealworms and waxworms. Twice a week, vegetables should be offered to add variety and additional fiber to their diet. Misting the enclosure regularly should allow for enough water intake. Adult lizards should be fed 3-4 times per week; some juveniles can be fed twice daily during their growing period.
Habitat/Housing
:
Successful permanent maintenance requires a 25-40 gallon long terrarium. A screen lid is essential for proper air exchange. The enclosure must include a high basking area, hiding space (preferably made of rocks), and a "cool" area to allow for thermoregulation. Habitat design should mimic their natural desert habitat. Unless breeding is desired, leopard lizards are best kept singularly.
Substrate (Bedding)
:
Repti-Sand is an ideal substrate for desert terrariums.
Responsible pet ownership begins on the trip home!
For the best health and well being of your new pet, it is important to remember to take it directly home. If you have more shopping or errands to complete, consider picking up your pet last. This will ensure the animal encounters the least amount of stress possible. Have the new terrarium completely set up before bringing your new friend "home". Additionally, make sure your new family member is allowed enough time to adjust to its new home. Wait three or four days before attempting to handle your pet and always supervise children when they interact with pets.
---
|
leopard lizard in English
You think you have ethics... Take the survey
NOW!