Vermilion River, Middle Fork
Vermilion River, Middle Fork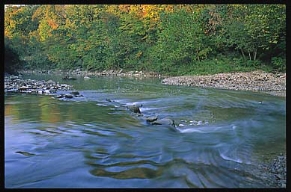 Photo by: Jason Lindsey, Perceptive Visions
Illinois Department of Conservation
524 South Second Street
Springfield, Illinois 62701
Designated Reach
: May 11, 1989. From river mile 46.9 near Collision downstream to river mile 29.8 at the Conrail Railroad crossing north of U.S. Highway 150.
Classification/Mileage
: Scenic -- 17.1 miles; Total -- 17.1 miles.
After over 100 years of agricultural use, this prairie river has reverted to a natural landscape. The Middle Fork of the Vermilion corridor contains unusual flora and fauna and a wide variety of recreational opportunities.

---
|
Vermilion River, Middle Fork in English
You think you have ethics... Take the survey
NOW!