United States
United States
USA, U.S., United States of America, country located in North America


United States
The
United States of America
(
USA
), commonly referred to as the
United States
(
US
),
America
, or simply
the States
, is a
federal republic
consisting of 50
states
, 16
territories
, and a
federal district
. The
48 contiguous states
and the federal district of
Washington, D.C.
, are in central
North America
between
Canada
and
Mexico
. The state of
Alaska
is the northwestern part of North America and the state of
Hawaii
is an
archipelago
in the mid-
Pacific
. The country also has five populated and nine unpopulated
territories
in the Pacific and the
Caribbean
. The largest of these territories are
Puerto Rico
and the
American Virgin Islands
which are an official part of the United States. At 3.79 million square miles (9.83 million km
2
) in total and with around 316 million people, the United States is the
fourth-largest country by total area
and third largest by
population
. It is one of the world's most
ethnically diverse
and
multicultural
nations, the product of large-scale
immigration from many countries
. The
geography
and
climate
of the United States is also extremely diverse, and it is home to a wide variety of wildlife.

United States
---
Noun
1. North American republic containing 50 states - 48 conterminous states in North America plus Alaska in northwest North America and the Hawaiian Islands in the Pacific Ocean; achieved independence in 1776
(synonym) United States of America, America, US, U.S., USA, U.S.A.
(hypernym) North American country, North American nation
(hyponym) Union, North
(member-holonym) North Atlantic Treaty Organization, NATO
(part-holonym) North America
(member-meronym) American
(part-meronym) East, eastern United States
(class) federal department, federal office, department of the federal government
(class) freshman, first-year
2. the executive and legislative and judicial branches of the federal government of the United States
(synonym) United States government, U.S. government, US Government, U.S.
(hypernym) federal government
(member-meronym) executive branch, Executive Office of the President






United States
Stany Zjednoczone

United States
Flag of United States


Background
Britain's American colonies broke with the mother country in 1776 and were recognized as the new nation of the United States of America following the Treaty of Paris in 1783. During the 19th and 20th centuries, 37 new states were added to the original 13 as the nation expanded across the North American continent and acquired a number of overseas possessions. The two most traumatic experiences in the nation's history were the Civil War (1861-65) and the Great Depression of the 1930s. Buoyed by victories in World Wars I and II and the end of the Cold War in 1991, the US remains the world's most powerful nation state. The economy is marked by steady growth, low unemployment and inflation, and rapid advances in technology.
Map of United States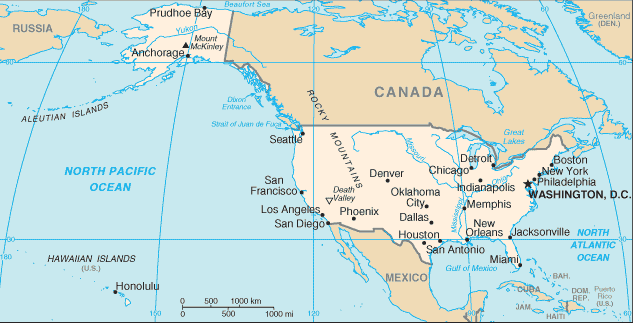 More about United States:
---
|
United States in French
|
United States in Italian
|
United States in Spanish
|
United States in Dutch
|
United States in Portuguese
|
United States in German
|
United States in Russian
|
United States in Japanese
|
United States in Greek
|
United States in Korean
|
United States in Turkish
|
United States in Hebrew
|
United States in Arabic
|
United States in Thai
|
United States in Polish
|
United States in Hungarian
|
United States in Czech
|
United States in Latvian
|
United States in Catalan
|
United States in Croatian
|
United States in Albanian
|
United States in Urdu
|
United States in Bulgarian
|
United States in Danish
|
United States in Finnish
|
United States in Norwegian
|
United States in Romanian
|
United States in Swedish
|
United States in Farsi
|
United States in Hindi
|
United States in Indonesian
|
United States in Vietnamese
|
United States in Pashto
|
United States in Filipino