Rebel Transport
Rebel Transport
Het Rebel Transport is een klein standaard.vracht toestel. Het word gebruikt voor het vervoer van troepen en licht materieel. Ze hebben een open onderkant waardoor ze een groot aantal typen containers kunnen meenemen in deze open vrachtruimte.
Door zijn redelijke bepantsering en lichte bewapening wordt het af en toe ook ingezet bij escorte taken.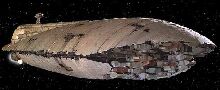 Dit toestel is ingezet bij de evacuatie van
Echo Base
op
Hoth
, en bij de
Battle of Endor
.
Fabrikant
Gallofree Yards
Type
Medium Transport

---
You think you have ethics... Take the survey
NOW!