Minbari Sharlin Warcruiser
Minbari Sharlin Warcruiser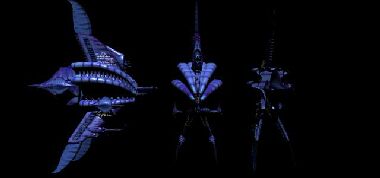 Length
: 1600 m
Mass
: 44.4 million metric tons
Fighters
: 15
Powersource
: 1 Quantum Singularity
8 Fusion reactor
Weaponsystem
: 18 Gravitic Neutron Cannons
8 Gravitic Fusion Beam Cannons
24 EM Neutron guns
24 EM Fusion Beam guns
42 Electro-Pulse Guns
4 Missile Launcher
2 anti-mater guns
1 anti-mater Cannon
Optional Mass Driver
Defensesystem
: 10 - 15 meter re-enforced Polycrystalline armor 42 Tractor Beams
Minbari Stealth Device
Defense Shield Grid
The Minbari Warcruiser is an awesome presence in space. The design of the cruiser changed in the last 1,000 years from the horizontal orientation of the
Tinashi Frigate
to a more vertical orientation. Like all Minbari vessel the ship is driven by a magneto-gravitic device. This device produces gravity on the whole ship as a side effect which allows the Minbari to abandon any rotating section for gravity generation. The
Humans
still rely on these sections to provide gravity in at least some parts of their ships.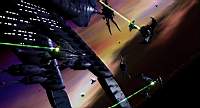 These cruisers were the key factor in the Earth-Minbari war. It was said that these ships were indestructible. The only victory against the cruisers took place when war hero Sheridan was able to destroy the Minbari flagship, the Black-Star, and three other cruiser after mining a section of the asteroid belt.
The
Centauri
claim that the Warcruiser has only one real weakness, which is its Gravimetric drive system. If this system is damaged or destroyed during a battle, the Warcruiser has no backup like a conventional engine system. The problem is that it needs massive amounts of firepower to penetrate the shields and hull of the Warcruiser to take any advantage of this weakness.
When the Gray Council broke up in
2260
the religious and the worker caste joined the Army of Light. Each of the three casts has its own cruisers and crew and so they became a valuable member in the alliance. The Warcruiser seems to be nearly indestructible to
Human
or
Narn
ships but it is no match for a
Shadow Battlecrab
. The
Shadow
slicerbeam penetrates the shields without any problems. It needs at least three Warcruiser to stop and destroy a Shadow Battlecrab. Many Warcruiser were destroyed or damaged in a big battle against Shadow forces in the end of 2260.

---
You think you have ethics... Take the survey
NOW!