Glándula pituitaria
Glandula pituitaria
| | |
| --- | --- |
| | Ver más en Wikipedia.org.../A> |
Glándula pituitaria
| | |
| --- | --- |
| | Ver más en Wikipedia.org.../A> |

GLÁNDULA PITUITARIA.
Pequeña glándula endocrina oval, que se ubica en la base del cerebro. Es la glándula maestra porque con sus secreciones estimula el funcionamiento de otras glándulas endocrinas. La glándula pituitaria tiene dos lóbulos, el anterior y el posterior; el anterior secreta por lo menos seis hormonas: la del crecimiento, que estimula el crecimiento del cuerpo en general; la adenocorticotrópica, que controla las hormonas esteroides secretadas por la corteza adrenal; la hormona tirotrópica que estimula el funcionamiento de la glándula tiroides; tres hormonas gonadotrópicas que controlan el crecimiento y la actividad reproductiva de las gónadas, que son los ovarios y los testículos; el lóbulo posterior secreta la hormona antidiurética, la cual origina la retención de agua en los riñones; la oxitocina, que estimula a las glándulas mamarias a liberar leche y también causa las contracciones uterinas. Una sobreactividad de la glándula pituitaria durante la niñez puede provocar gigantismo, y durante la vida adulta puede provocar acromegalia.


Glándula pituitaria (Pituitary Gland)
lándula endocrina en la pequeña cavidad ósea en la base del cerebro. Conocida a menudo como &quotla glándula maestra&quot, la pituitaria sirve al organismo de muchas maneras: en el crecimiento, en el uso de los alimentos y en la reproducción. Se llama también hipófisis.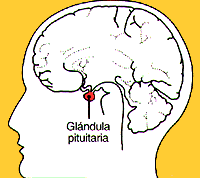 glándula pituitaria
Glándula endocrina principal. Produce hormonas que controlan otras glándulas y muchas funciones del cuerpo; en particular, el crecimiento.


glándula pituitaria
hipofiz bezi

---
|
Glándula pituitaria in English
|
Glándula pituitaria in Dutch
|
Glándula pituitaria in Portuguese
|
Glándula pituitaria in German
|
Glándula pituitaria in Turkish
|
Glándula pituitaria in Arabic
|
Glándula pituitaria in Finnish
You think you have ethics... Take the survey
NOW!