Give-up
Give-up
Desistência
A "desistência" de um cliente é uma operação executada por um corrector para o cliente de outro corrector, que "desiste" depois do mesmo em favor do corrector habitual, por exemplo, um corrector do recinto discreto deve pedir a outro corrector para executar a operação.


Give-up
A customer "give-up" is a trade executed by one broker for the client of another broker and then "given-up" to the regular broker; e.g., a floor broker with discretion must have another broker execute the trade.


Give-up
Klientenüberweisung
Bei einer Klientenübergabe handelt es sich um einen Auftrag, der von einem Broker für den Kunden eines anderen ausgeführt wird und dann an den regulären Broker "übergeben" wird; z.B., ein Saalhändler, der Diskre-tionskonten führt, muss die Orders seines Kunden durch einen anderen Broker ausführen lassen.


Give-up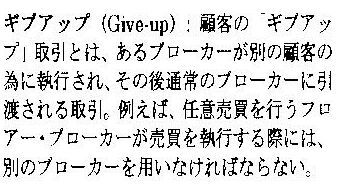 Give-up
Revelar la identidad del cliente del corredor
La divulgación de la identidad de un cliente es un negocio ejecutado por un corredor para el cliente de otro corredor, y luego esta identidad es revelada al corredor originalmente interesado; por ejemplo, un corredor de piso discreto debe tener a otro corredor para ejecutar el negocio.

---
|
Give-up in English
|
Give-up in Spanish
|
Give-up in Portuguese
|
Give-up in German
|
Give-up in Japanese
You think you have ethics... Take the survey
NOW!