Gaza Strip
Gaza Strip
section of land on the Israeli-Egyptian border which is part of the Palestinian autonomous zone


Gaza Strip
The
Gaza Strip
( , ) or simply
Gaza
is a self-governed entity on the eastern coast of the
Mediterranean Sea
that borders
Egypt
on the southwest for and
Israel
on the east and north along a border. Since 2007, the Gaza Strip has been de-facto
governed
by
Hamas
, a Palestinian faction claiming to be the legitimate representatives of the
Palestinian National Authority
and the Palestinian People. In 2012, the
United Nations
recognized the Gaza Strip as part of the
State of Palestine
, with the territory claimed by the Palestinian government in Ramallah; however efforts towards Palestinian reconciliation, which would allow the merger of the Gaza and Ramallah administrations, have so far failed.

Gaza Strip
---
Noun
1. a coastal region at the southeastern corner of the Mediterranean bordering Israel and Egypt; "he is a Palestinian from Gaza"
(synonym) Gaza
(hypernym) geographical area, geographic area, geographical region, geographic region
(part-holonym) Israel, State of Israel, Yisrael, Zion, Sion






Gaza Strip
Background
The Israel-PLO Declaration of Principles on Interim Self-Government Arrangements (the DOP), signed in Washington on 13 September 1993, provided for a transitional period not exceeding five years of Palestinian interim self-government in the Gaza Strip and the West Bank. Under the DOP, Israel agreed to transfer certain powers and responsibilities to the Palestinian Authority, which includes the Palestinian Legislative Council elected in January 1996, as part of the interim self-governing arrangements in the West Bank and Gaza Strip. A transfer of powers and responsibilities for the Gaza Strip and Jericho took place pursuant to the Israel-PLO 4 May 1994 Cairo Agreement on the Gaza Strip and the Jericho Area and in additional areas of the West Bank pursuant to the Israel-PLO 28 September 1995 Interim Agreement, the Israel-PLO 15 January 1997 Protocol Concerning Redeployment in Hebron, the Israel-PLO 23 October 1998 Wye River Memorandum, and the 4 September 1999 Sharm el-Sheikh Agreement. The DOP provides that Israel will retain responsibility during the transitional period for external and internal security and for public order of settlements and Israeli citizens. Direct negotiations to determine the permanent status of Gaza and West Bank began in September 1999 after a three-year hiatus, but were derailed by a second intifadah that broke out in September 2000. The resulting widespread violence in the West Bank and Gaza Strip, Israel's military response, and instability within the Palestinian Authority continue to undermine progress toward a permanent agreement. Following the death of longtime Palestinian leader Yasir ARAFAT in November 2004, the election of his successor Mahmud ABBAS in January 2005 could bring a turning point in the conflict.
Map of Gaza Strip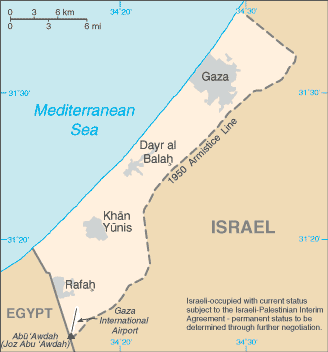 More about Gaza Strip:
---
|
Gaza Strip in French
|
Gaza Strip in Italian
|
Gaza Strip in Spanish
|
Gaza Strip in Dutch
|
Gaza Strip in Portuguese
|
Gaza Strip in German
|
Gaza Strip in Russian
|
Gaza Strip in Japanese
|
Gaza Strip in Greek
|
Gaza Strip in Turkish
|
Gaza Strip in Hebrew
|
Gaza Strip in Arabic
|
Gaza Strip in Thai
|
Gaza Strip in Polish
|
Gaza Strip in Hungarian
|
Gaza Strip in Lithuanian
|
Gaza Strip in Latvian
|
Gaza Strip in Catalan
|
Gaza Strip in Serbian
|
Gaza Strip in Bulgarian
|
Gaza Strip in Finnish
|
Gaza Strip in Swedish
|
Gaza Strip in Macedonian
|
Gaza Strip in Filipino