Enfeh Archaeological Site
Enfeh Archaeological Site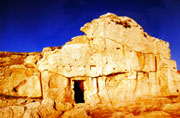 Enfeh, near Tripoli, Lebanon
2nd millennium B.C.--13th century A.D.
A wild, rocky peninsula 400 meters long and 50 meters wide was the site of a settlement that spanned at least three thousand years. Most of Enfeh's ancient fabric lies buried, but remnants of two eras in its history have been unearthed--from its earliest origins in the second millennium B.C., and from the seventh century A.D. (two exposed medieval rupestrine chapels). Discoveries include a Phoenician town wall, a Roman wall, mosaic flooring, wine presses, millstones, and stairways. When included on the 1998 Watch list, Enfeh faced a serious threat from a proposed port expansion project that would have overwhelmed it. Although that project has been halted, the site is still in a precarious condition. Houses encroach on the ruins, excavated archaeological remains lie exposed to the elements and vegetation, and locals have little regard for the site. Current plans for the expansion of the fishing industry will boost the local economy, but the populace needs to be convinced of the importance of appropriate, sustainable development.
Listed in 1998

---
You think you have ethics... Take the survey
NOW!