Echo Base
Echo Base
Echo Base is de basis van de
Alliance
op
Hoth
.
De basis wordt ontdekt door imperial
Probe Droids
, en
Darth Vader
zet de aanval in.
General Veers
leidt de aanval met
AT-AT's
in, maar als de
Imperial Snow Troopers
de basis binnendringen is Darth Vader erbij aanwezig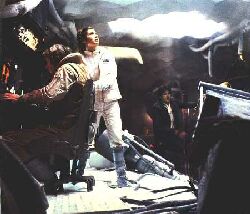 De basis was uitgegraven in de gletschers en grotten van Hoth. Vanuit de
Control Room
werd de verdediging en evacuatie geleidt. Hier diende ook
Toryn Far
, de communicatie officier die tot het laatst bleef.
Leia Organa
had hier de leiding. De leiding van de verdediging was in handen van
Generaal Rieekan
. Zijn belangrijkste troef was het enorme
planetaire Ion Cannon
met welke hij de
Star Destroyers
bezig hield die probeerden de ontsnappende Alliance jagers en -
transports
tegen te houden.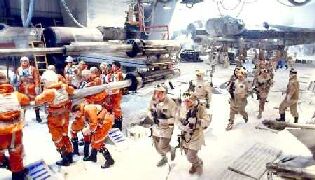 ---
|
Echo Base in French
|
Echo Base in Dutch
|
Echo Base in Japanese
You think you have ethics... Take the survey
NOW!