Centronics Schnittstelle
IEEE 1284
Der
IEEE-1284
-Standard definiert eine
parallele Schnittstelle
zur bidirektionalen Übertragung von Daten zwischen PCs und unterschiedlichen Peripheriegeräten (Drucker, Fax, Scanner, Laufwerke etc.). Der IEEE-1284-Standard wurde 1994 verabschiedet und löste damit offiziell die weitverbreitete
Centronics-Schnittstelle
aus den 1970er Jahren ab, die bis dahin nur ein
Quasi-Standard
war. Der IEEE-1284-Standard definiert die elektrischen Eigenschaften der Schnittstellen, die zu verwendenden Hardware-Protokolle und die zugehörigen Kabel. Für die übergeordneten "Software-Protokolle" wird auf die entsprechenden Substandards verwiesen. Teile der Substandards betreffen Protokolle, die unabhängig von der Hardware-Schnittstelle sind und – neben der Parallel-Schnittstelle – z. B. auch USB vorsehen (TIPSI).

Centronics Schnittstelle
Centronics interface, interface of a regular parallel printer port in IBM compatibles


Centronics Schnittstelle

Eine parallele
Schnittstelle
, die von der Firma Centronics definiert wurde und meistens für die Verbindung von PC und Drucker genutzt wird.
siehe auch
parallelen
und
seriellen Schnittstellen
unterschieden.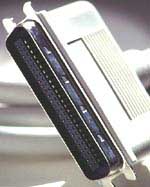 ---
|
Centronics Schnittstelle in English
|
Centronics Schnittstelle in German
You think you have ethics... Take the survey
NOW!