Barquin D'an
Barquin D'an
Barquin D'an is een
Bith
die lid is van de
Max Rebo Band
.
Max Rebo
is leider en orgelspeler van de band.
Joh Yowza
is samen met
Sy Snootles
leadzanger van de Max Rebo band. De band is een van de vaste acts in het
paleis
van
Jabba the Hutt
. Ze treden op met als vast achtergrond koortje het bevallige drietal
Greeata
,
Lyn Me
en
Rystall
. Verder zijn ook
Droopy McCool
op windinstrument en
Ooda Bodonawieedo
nog lid van zijn band.
De band van Max Rebo is aanwezig op het moment dat
Leia Organa
binnenkomt, verkleed als
Boushh
met
Chewbacca
als gevangene.
Barquin D'an is de oudere broer van
Figrin D'an
, lid van
The Modal Nodes
. Hij is echter niet zo goed als zijn jongere broer. Net als Figrin speelt Barquin de
kloo horn
.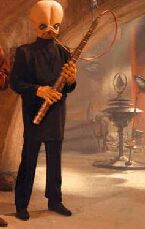 ---
|
Barquin D'an in Dutch
You think you have ethics... Take the survey
NOW!